Special
Cars & Coffee Romania 2017
The first Cars & Coffee Romania event took place on the 21st of October 2017.
| | |
| --- | --- |
| Date | OCTOBER 21, 2017 |
| Where | Motorpark România |
| Organized by | C&C Romania |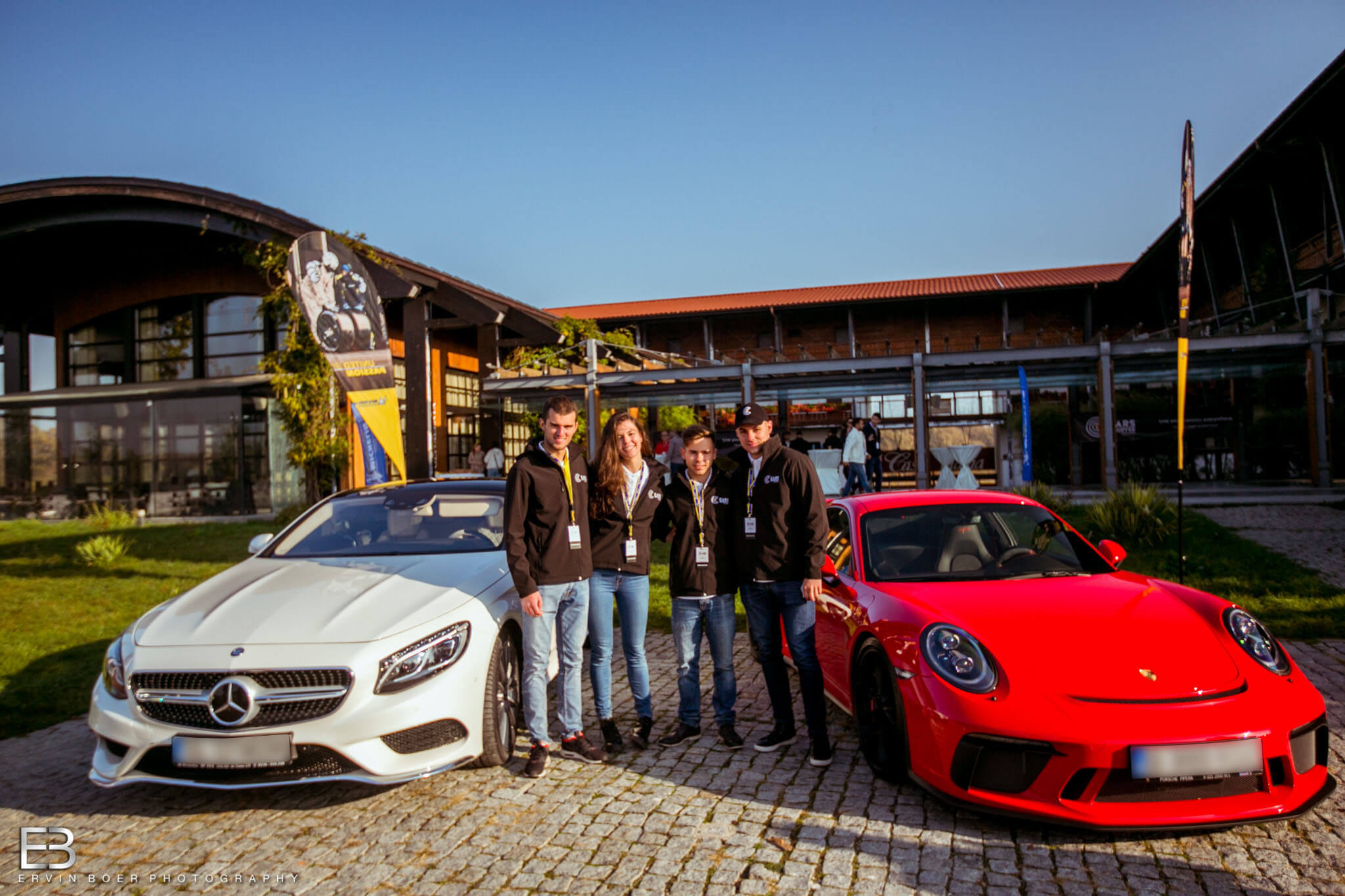 Summary
Cars & Coffee Romania 2017
RO
Cars & Coffee România: un eveniment ce merită retrăit
Cars & Coffee România s-a încheiat sâmbătă după-masă, însă organizatorii spun că acesta nu este decât un nou început.

A venit timpul să aflăm povestea co-fondatorilor, Alex Arhire și Luigi Lungu. Este vorba despre doi proaspăt absolvenți de facultate, a căror pasiune i-a determinat nu numai să viseze, ci să transforme în realitate unul dintre cele mai așteptate evenimente auto din România. Totul a început când unul dintre ei și-a scris lucrarea de licență tocmai pe acest subiect, fapt ce le-a dovedit amândurora că se poate.

Acum, după luni întregi de pregătire, o echipă extraordinară de oameni, mulți parteneri dornici să susțină o inițiativă fresh și multă pasiune, Cars & Coffee România se poate numi unul dintre evenimentele cunoscute ale țării.

Ziua de sâmbătă a fost așa cum organizatorii evenimentului anunțaseră: plină de adrenalină, fun și oameni grozav de pasionați. 37 de mașini participante, dintre care 4 mașini ce participă în Campionatul Național de Viteză în Coastă ne-au încântat privirile. Printre acestea s-au numarăt mașina campionului absolut a anului 2017, mașina campioană la clasa Oldtimer și două modele Ferrari Challenge. Nu putem uita de cei 800 de spectatori ce au fost alături de echipa Cars & Coffee România și care au menținut atmosfera și energia pe toată durata evenimentului.

Ai ratat acest minunat event? Nu ai de ce să-ți faci griji. Pe pagina de Facebook Cars & Coffee România găsești cele mai proaspete informații, iar echipa de organizare anunță un an 2018 plin de surprize!
------------------------------------------------
EN
Cars & Coffee Romania

Cars & Coffee Romania ended on Saturday afternoon, but the organizers say it's just a new beginning.
It is time to find out the story of the co-founders Alex Arhire and Luigi Lungu. It is about two college graduates, whose passion not only made them dream, but also to turn into reality one of the most awaited car events in Romania. It all started when one of them wrote his bachelor work on this subject, which proved to both them that Cars & Coffee was possible to organize.
Now, after months of preparation, a great team of people, many partners eager to support a fresh initiative and a lot of passion, Cars & Coffee Romania can be classified as one of the country's well-known events.
Saturday was just as the organizers of the event had announced it to be: full of adrenaline, fun, and great passionate people. 37 participating cars, including four cars participating in the National Speed Boat Championship, have delighted our eyes. Among them were the car of the absolute champion of 2017, the Oldtimer champion car and two Ferrari Challenge models. We cannot forget the number of as many as 800 spectators who were with Cars & Coffee Romania and who created the atmosphere and the energy throughout the event.
Did you miss this wonderful event? There is nothing to worry about it. On the Facebook Cars & Coffee Romania page you can find the latest information and the organizing team announces a 2018 full of surprises!