Special
Cars & Coffee Romania 2017
RO
Bun venit la prima ediție Cars & Coffee România, care va avea loc într-o locație superbă din Snagov și la Motorpark România, primul circuit de viteză din sud-estul Europei. Prima parte a evenimentului este privată, fiind alcătuită dintr-o sesiune de networking, urmată de un mic dejun delicios. Acestea au ca scop crearea fundației unei comunități ce are la bază pasiunea comună pentru mașini.
A doua parte a evenimentului Cars & Coffee România va fi plină de adrenalină și energie. După o excursie de aproximativ 40 de minute, vom ajunge la Motorpark România în jurul orei 11:30. Toate automobilele vor fi expuse pentru a putea fi admirate și savurate de publicul larg. Aici va avea loc, de asemenea, punctul culminant al evenimentului și anume cursa C&C România, în care participanții se pot înscrie la o întrecere amicală și distractivă pe circuitul Motorpark România. Structura acestei curse se distinge, într-un mod surpinzător, de majoritatea competițiilor; iată doar un indiciu: miza cursei nu este viteza și în aceasta constă savoarea ei. Este recomandat ca fiecare pilot, să aibă și un co-pilot!
Ceea ce este special la Cars & Coffee România este faptul că, după eveniment, aveți posibilitatea de a dona o sumă de bani partenerilor noștri, fundația OvidiuRo, în sprijinul copiilor defavorizați din România. Credem cu tărie că fiecare copil din România merită o șansă la educație. Aceasta este cauza nobilă pe care noi o sprijinim. Tu?
Pregătește-te! Pe parcursul ambelor părți, atât participanții, cât și spectatorii se vor bucura de surprize inedite și activități captivante.
Acest eveniment își propune să accepte participarea unui număr maxim de 50 de mașini, de aceea vă rugăm să vă înscrieți cât se poate de curând.
Echipa noastră pregătește aceste evenimente în colaborare cu sponsorii noștri generoși, cu partenerii noștri și fotografi și suntem încredințați că evenimentul de față, precum și cele ce îi vor urma, îți va satisface pasiunea pentru automobilism, oferindu-ți totodată ocazia de a interacționa cu oameni la fel de pasionați ca tine.
Prin evenimentul nostru Cars & Coffee, vom deveni liantul unui grup de oameni minunați, cu mașini extraordinare, cărora le vom crea amintiri de neuitat.
Cum particip?
Cu mașina ta...
Pentru a participa cu mașina ta, te rugăm să completezi formularul de aplicație de mai jos (Owner) Detalii despre rezervarea opțională a camerei tale de hotel vor fi trimise dupa confirmare.
Cu pasiunea ta...
Vrei să vezi mașinile incredibile din cadrul evenimentului Cars & Coffee? Te rugăm sa te asiguri că devii membru al platformei Cars & Coffee. Poți să te loghezi pe această pagină și să primești ultimele noutăți despre eveniment.
Acreditare media
Îți dorești să vizitezi evenimentul Cars & Coffee în postură de media? Completează formularul de participare al presei, al fotografului sau al videografului de mai jos. Ulterior vei fi contactat, cât de curând, de un membru al echipei noastre.
Întrebări sau observații?
C&C România își rezervă dreptul de a selecta mașinile pentru eveniment în așa fel încât să existe o varietate cât mai mare. Evenimentul este deschis pentru supercar-uri, mașini sport și mașini clasice. Pentru mai multe informații contactează-ne la: ro@cars.coffee.
--------------------------------------
EN
Welcome to the first edition of Cars & Coffee Romania, that will take place in a gorgeous setting in Snagov and at Motorpark Romania, the first race track in Romania and the newest in South-Eastern Europe. The first part of the event is private and it will consist of a networking session for you and other passionate participants in Snagov, which will be followed by an elegant and delicious breakfast. The purpose of this part is the creation of what's going to be the foundation of a strong community driven by the mutual passion for cars.
The second part of Cars & Coffee Romania is designed so as to load you with adrenaline and energy. After an approximately 40-minute drive, we will reach Motorpark Romania around 11.30 a.m. All the cars will be displayed in exhibition style for the open public to admire and savor. Here is also where you will be experiencing the main attraction, more precisely the C&C Romania Race, where the participants can engage in a fun and friendly race along the Motorpark Romania circuit. The structure of the race is surprisingly different from most contests, but here is a small hint: it`s not about being the fastest and this is what makes it fun. It is recommended for each pilot to have a co-pilot!
Special about Cars & Coffee Romania is that, after the event, you have the possibility to donate an amount of money to our partners, the foundation OvidiuRo. We believe that every child in Romania deserves the chance to education, which is a noble cause that we support. What about you?
Be prepared! During both parts, you (the participants) and the spectators will enjoy various surprises and engaging activities.
This event is limited to a maximum of 50 vehicles and we would kindly like to ask you to submit your application at your earliest convenience.
Our team prepares its events in cooperation with our generous sponsors, partners and photographers. We are confident that this very event as well as all the following ones will satisfy your passion for automobiles, offering you the great opportunity to interact with people who share the same passion.
Through our Cars & Coffee events, we believe to become the link of a group of great people with extraordinary vehicles and provide all of them with unforgettable memories.
How to take part?
With your car...
To participate as an owner with your car, please submit your application by filling out the form (Owner) that you find below. Details for the optional booking of your hotel room will be sent after your confirmation.
With your passion…
Do you want to see the amazing cars taking part in this Cars & Coffee event? Please make sure to become a free member of our Cars & Coffee platform. You can sign up on this page and always receive the latest updates about the event.
Media accreditation
Do you want to visit the Cars & Coffee event as media? Fill out the form below to participate as press, photographer or video maker. You will be contacted by one of our team members as soon as possible.
Any questions or remarks?
C&C Romania reserves the right to selectively admit cars to the event in order to have the widest selection. The event is open to supercars, selected groups of sports cars and classic cars. For further queries, please contact: ro@cars.coffee.
| | |
| --- | --- |
| Start date | OCTOBER 21, 2017 09:00 |
| End date | OCTOBER 21, 2017 18:00 |
| Where | Motorpark România |
| Organized by | C&C Romania |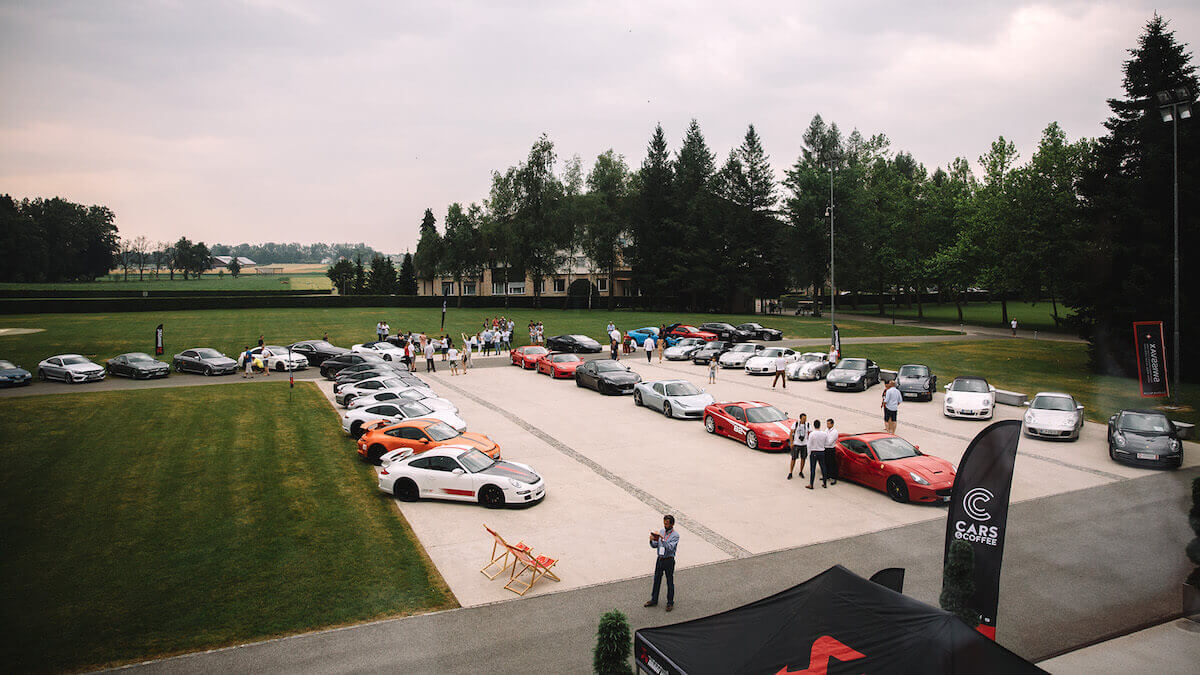 Info to participate
You are:
Owner (With my Car)
Price: Sold out
The event is sold out, sign up to stay updated.
Enthusiast (With my Passion)
Price: Free
Extra services

Zorelelor 44A (077165) Snagov (Romania)
Vila 23