Exhibition
Cars & Coffee French Castles 2018
EN
Cars & Coffee Centre returns for a second edition on Sunday, October 7, 2018 in a major place of the Centre region. Indeed, Supercars & Hypercars will be displayed in a unique place in the world!
This year we offer an exclusive full week-end program.
On Sunday morning, you and your co-driver will be invited to a prestigious hotel to park your supercar before the start of a touristic rally on the most beautiful roads of Touraine. At the end of this rally, the cars will be displayed in the park of the iconic Château de Chenonceau. You will then be invited to a cocktail and a gourmet lunch that will offer you the opportunity to exchange with other car owners. At the end of this meal, you will discover the Supercars and Hypercars that will be exhibited in the park while visiting this place filled with history. You will also have access to a VIP area for you to resourcer and in which a cocktail will be proposed to close this beautiful day.
Can not wait for this event? You can join us for the French Castles Experience which will take place on Saturday and which will allow you to discover the castles of the Loire Valley by taking beautiful roads that will allow you to avoid the monotony of the highway. To end the day, you will be invited to a gala with a gourmet meal that will allow you to interact with other participants passionate about cars. (Caution, to participate to the French Castles Experience you must register for the day of Sunday.)
How to attend?

With your car...
To participate as an owner with your car, please submit your application by filling out the form (owner) below.

With your passion...
You want to discover the most exclusive cars of the moment in an exclusive place? Feel free to register on the free Cars & Coffee platform to receive all the information about the event. On the other hand, you will have to pay an entrance fee in order to discover the magnificent Château de Chenonceau, one of the jewels of the French Renaissance and also to discover the supercars & hypercars in the park. (prices and informations at www.chenonceau.com)
As a media...
You want to discover the Cars & Coffee event as a media? Please fill out the form below to participate as a press, photographer or videomaker. You will be contacted by a member of our team as soon as possible.
For any question or remarkS, please contact us at centre.fr@cars.coffee
---
FR
Cars & Coffee Centre revient pour une deuxième édition le dimanche 7 octobre 2018 dans l'un des hauts lieu de la Région Centre ! En effet, les Supercars & Hypercars seront disposées dans un endroit unique au monde !
Cette année nous vous proposons un programme exclusif se déroulant sur le week-end complet.
Dimanche matin, votre copilote et vous serez invités dans un prestigieux hôtel pour garer votre supercar avant de prendre le départ pour un rallye touristique sur les plus belles routes de la région Tourangelle. A l'issue de cette balade, les voitures seront exposées dans le parc de l'emblématique Château de Chenonceau. Vous serez ensuite conviés à un cocktail ainsi qu'à un repas gastronomique qui vous offrira l'opportunité d'échanger avec les autres propriétaires de voitures aussi bien classiques que modernes. A l'issue de ce repas, vous pourrez découvrir les Supercars et Hypercars qui seront disposées dans le parc tout en visitant ce lieu rempli d'Histoire. Vous aurez également accès à un espace VIP pour vous ressourcer et dans lequel un cocktail sera proposé pour cloturer cette belle journée.
Vous ne pouvez pas attendre pour cet événement ? Vous pouvez nous rejoindre pour la French Castles Experience qui se déroulera le samedi et qui vous permettra de découvrir les châteaux de la Loire en empruntant de magnifiques routes qui vous permettront d'éviter la monotonie de l'autoroute. Pour terminer la journée, vous serez convié à une soirée de gala avec un repas gastronomique qui vous permettra ainsi d'échanger avec les autres participants passionés d'automobile. (Attention, pour participer à la French Castles Experience vous devez impérativement vous inscrire à la journée du dimanche.)
Comment participer?
Proprietaire...
Pour participer en tant que propriétaire avec votre véhicule, merci d'envoyer votre inscription en complétant le formulaire (Owner) que vous trouverez ci-dessous.
Passionnées...
Vous souhaitez découvrir les voitures les plus exclusives du moment dans un lieu exclusif ? N'hésitez pas à vous inscrire sur la plateforme gratuite Cars & Coffee afin de recevoir toutes les informations relatives à l'événement. En revanche, vous devrez vous acquitter d'un droit d'entrée afin de pouvoir découvrir les supercars & hypercars dans le parc mais également découvrir le magnifique Château de Chenonceau, l'un des joyaux de la Renaissance française. (Informations et tarifs sur www.chenonceau.com)
En tant que média...
Vous souhaitez découvrir l'événement Cars & Coffee en tant que média ? Veuillez remplir le formulaire ci-dessous pour participer en tant que presse, photographe ou vidéaste. Vous serez contacté par un membre de notre équipe dès que possible.
Pour toute question ou remarque, veuillez nous contacter à centre.fr@cars.coffee
Photo Credits: Fr_Supercars
| | |
| --- | --- |
| Date | OCTOBER 06, 2018 |
| Where | Chateau de Chenonceau |
| Organized by | |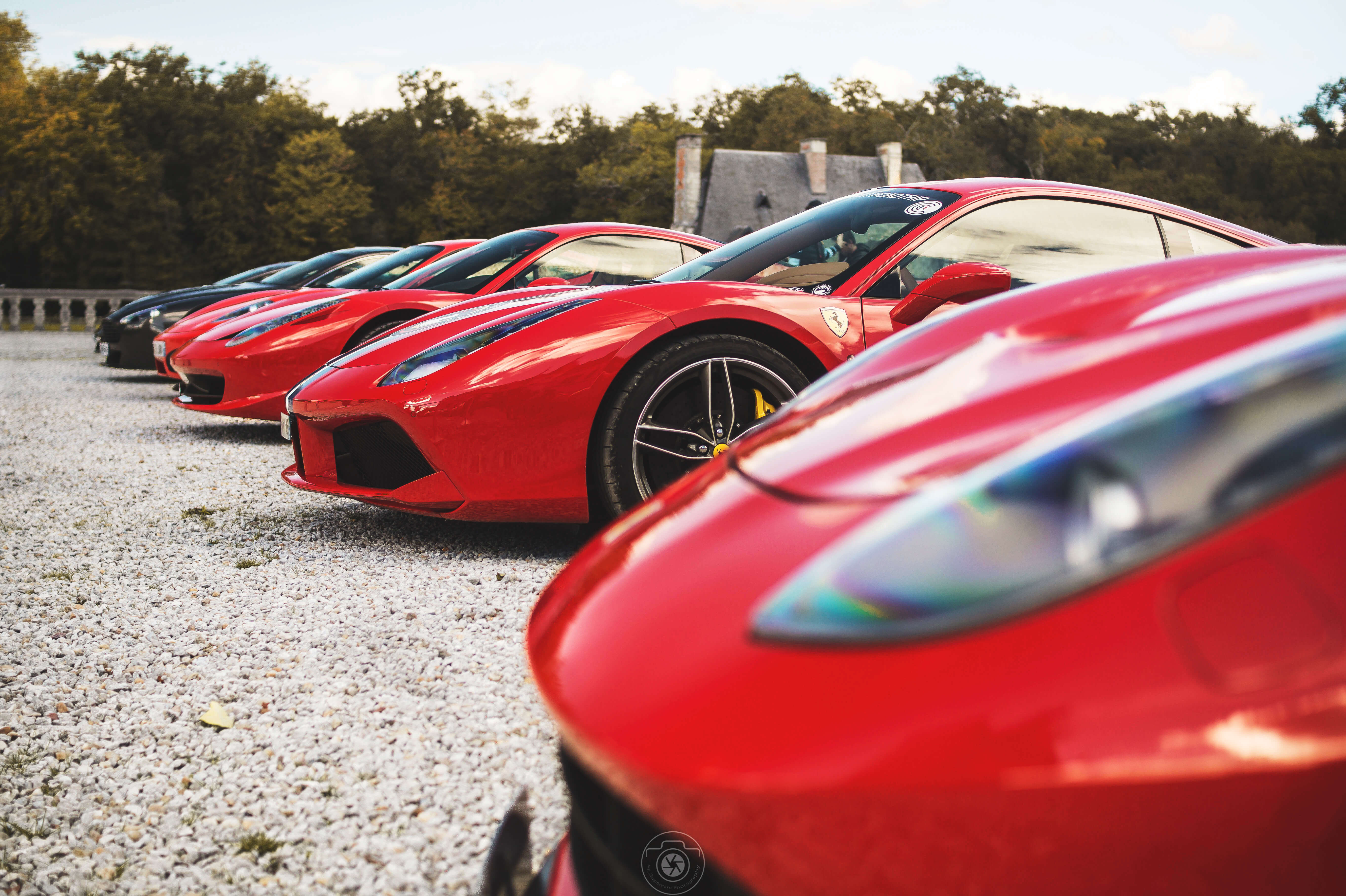 Summary
Cars & Coffee French Castles 2018
Cars & Coffee returned in France on the weekend of October 6th and 7th, 2018 in the Centre region. For this second edition, the participants had the opportunity to live an experience rich in discovery and adventure through two car rallies on the roads of the Loire's castles.
The second Cars & Coffee Centre started on Saturday afternoon around a brunch at the Château de Villesavin and then, participants took the road to the most beautiful Loire's castles with a beautiful sun. A first stop in front of the Château de Chambord allowed the participants to take an unforgettable picture of their vehicle in front of the castle, followed by a passage in front of the Cheverny's castle, the participants were then able to see the Chaumont-sur-Loire's and Amboise's catsles to finish at the Château de Nitray with a tasting of local products. The rally ended at Domaine de la Tortinière where a cocktail and gala awaited the participants. The first day ended in a friendly atmosphere around a gourmet meal.
Sunday morning participants were invited to a breakfast at the Domaine de la Tortinière to start this second day where other supercars joined us. Subsequently, each vehicle took the start of an 80-kilometer rally on the most beautiful roads of the touraine to arrive at the Château de Chenonceau.
This iconic castle in France has opened its doors to exceptional cars. Alpine, Ferrari, Lamborghini, Mclaren, Porsche, Aston-Martin, TVR and many others have integrated perfectly in this exceptional setting.
Visitors had the opportunity to discover the heritage and history of France and sublime vehicles.
The participants were able to enjoy a lunch in the Orangery of the Château de Chenonceau, to then also discover the castle and its gardens.
The sun appeared in the afternoon to close this second Cars & Coffee more than successful.